* This post may contain affiliate links, and we will be compensated if you buy after clicking on our links. Learn more on our Affiliate Disclosure Page.
Get ready for the adrenaline rush of a lifetime as we introduce you to the world of high-speed drag RC racing in the palm of your hands! In this exhilarating article, we will unveil the 7 best drag RC cars that are guaranteed to satisfy your need for speed.
Whether you're a seasoned RC enthusiast or a newcomer looking to delve into this thrilling hobby, our carefully curated list will guide you towards finding the perfect machine to dominate the track.
From high-performance engines to aerodynamic designs and state-of-the-art technology, these incredible drag RC cars will leave you and your competition in the dust. So, buckle up and join us as we venture into the electrifying realm of drag RC racing, where lightning-fast acceleration, unmatched power, and unyielding control are the keys to victory!
How Did We Choose the Best Drag RC Cars For Racing?
When it came to selecting the Best Drag RC Cars For Racing, we left no stone unturned in our pursuit of excellence. Our comprehensive evaluation process began with extensive research, delving into the most reputable and reliable sources within the RC racing community.
Our criteria for choosing the best drag RC cars included evaluating essential factors such as speed, acceleration, durability, and handling. We prioritized models with high-performance motors, efficient power systems, and advanced suspension setups to ensure rapid acceleration and optimal control on the track.
Throughout our selection process, we also took into account ease of use, customization options, availability of replacement parts, and customer reviews, knowing that these factors significantly impact user experience and long-term satisfaction. By thoroughly examining all these elements, we have compiled a list of the Top 7 Drag RC Cars that deliver unmatched performance, quality, and excitement for racers of all skill levels.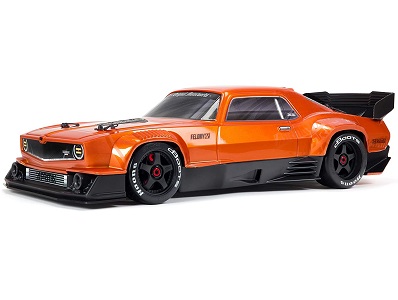 The ARRMA 1/7 Felony 6S BLX Street Bash All-Road Muscle Car RTR is a fantastic choice for intermediate-level drivers looking for an adrenaline-pumping RC experience. Inspired by classic American muscle cars, this 1/7 scale vehicle boasts incredible speed, reaching up to 80+ MPH on various surfaces, including on-road, dirt, and oval tracks. It features a sleek, multi-part body design that can be customized with the included accessory kit and decals, ensuring a unique and eye-catching appearance.
The durable 6061-T6 anodized aluminum chassis houses a heavy-duty drivetrain, steel driveshafts, all-metal diff outdrives, and gearbox internals, ensuring long-lasting performance. Advanced technology such as the Spektrum 3-Channel DX3 2.4GHz DSMR radio and SR6110AT Receiver with AVC (Active Vehicle Control) provide high-speed stability and real-time updates on various parameters.
Pros:
Impressive 80+ MPH speed on various surfaces
Durable, heavy-duty components for long-lasting performance
Customizable, muscle car-inspired design
Advanced technology for high-speed stability and real-time updates
Ready-to-run, just add batteries and charger
Cons:
Requires purchase of batteries and charger separately
May not be suitable for beginners due to its high speeds
Customization options might be overwhelming for some users
💡 Read also: Delve deeper into the captivating world of remote-controlled adventures by checking out my article on different types of RC cars!
The ARRMA 1/8 Vendetta 4X4 3S BLX Brushless All-Road Speed Bash Racer RTR is a perfect choice for drivers with intermediate experience seeking high-speed thrills on both on-road and light off-road surfaces. Capable of reaching 70 mph+ speeds in optimum conditions, this RC car boasts exceptional durability and control, thanks to ARRMA engineering and Spektrum electronics.
The proven 4X4 platform features a strong composite chassis, oil-filled shocks with silicone O-rings, metal geared differentials, and more, making it rugged enough for high-speed bashing. The aerodynamically tuned Vendetta Speed Racer body comes with high and low downforce wings to keep the tires grounded, while the dBoots Hoons Elevens vented all-road tires offer incredible traction. Spektrum electronics provide the benefits of AVC (Active Vehicle Control) and Smart technology straight out of the box.
Pros:
Impressive 70 mph+ speed on various surfaces
Durable components for high-speed bashing
Aerodynamically tuned body with adjustable downforce wings
Advanced Spektrum electronics for stability and control
Ready-to-run, only requires battery and charger
Cons:
Requires purchase of batteries and charger separately
Not suitable for beginners due to its high speeds
Optional Bluetooth module for telemetry capabilities not included
The Team Associated 1/10 SR10 2 Wheel Drive Dirt Oval RTR is a thrilling RC car designed for dirt oval racing enthusiasts. This 1:10 scale ready-to-run vehicle offers exceptional performance on dirt and clay tracks, capturing the excitement of tire-scorching racing action. Equipped with a 2.4GHz 2-CH radio with a new DVC (Dynamic Vehicle Control) receiver, this RC car features a built-in adjustable gyro for enhanced control. Its powerful Reedy 3300Kv brushless motor, high-grip tires, and lightweight street stock-inspired wheels ensure excellent performance on the track.
The factory-finished Street Stock body with an integrated rear spoiler adds to its sleek design. With aluminum 12mm big bore coil-over shock absorbers and a low center-of-gravity molded composite chassis, the SR10 guarantees durability and reliable handling.
Pros:
Designed specifically for dirt oval racing
Powerful Reedy 3300Kv brushless motor
DVC receiver with built-in adjustable gyro for improved control
Factory-finished Street Stock body with integrated rear spoiler
Lightweight and durable components for better performance
Cons:
Requires purchase of batteries and charger separately
2-wheel drive may limit performance on certain terrains
Not suitable for beginners due to its specialized nature
The Losi 1/10 '68 Ford F100 22S 2 Wheel Drive No Prep Drag Truck Brushless RTR is a high-performance RC truck specifically designed for no prep drag racing. With an officially licensed 1968 Ford F100 body and 22S aluminum chassis, this truck boasts an impressive combination of style and durability.
The Spektrum Firma 100 amp Smart ESC and 6500kv brushless motor provide exceptional power, while the all-metal gear transmission ensures reliability on the track. The precisely adjustable wheelie bar, LED lights, and elastomer battery straps add to the truck's top-notch features. The truck is equipped with officially licensed Mickey Thompson ET rear drag tires and Ultra Light Front Runner tires for excellent traction during high-speed racing.
Pros:
Designed specifically for no prep drag racing
Officially licensed 1968 Ford F100 body for an authentic look
Powerful Spektrum Firma 100 amp Smart ESC and 6500kv brushless motor
All-metal gear transmission for dependable performance
Precisely adjustable wheelie bar for optimal stability
Cons:
Battery and charger not included
2-wheel drive may limit performance on certain terrains
Not suitable for beginners due to its specialized nature
The Losi RC Car 1/16 1970 Chevelle 2 Wheel Drive Mini No Prep Drag Car RTR is a unique and exciting drag racing experience for both new and experienced RC enthusiasts. Built on the proven Mini 22 platform, the car features an officially licensed 1970 Chevy Chevelle body with molded details and LED head and tail lights, providing an authentic appearance.
The factory-installed 6000Kv 2-in-1 brushless power system offers impressive performance, while the multi-wheelbase chassis accommodates other on-road mini bodies for added versatility. Officially licensed Mickey Thompson front and rear tires ensure realistic looks and performance. The car comes with a high capacity 2S 800mAh LiPo battery and a convenient USB charger.
Pros:
Perfect for new and experienced racers
Officially licensed 1970 Chevy Chevelle body for an authentic look
Factory-installed brushless power system for impressive performance
Versatile multi-wheelbase chassis
Comes with a battery and charger for a complete ready-to-run package
Cons:
Smaller 1/16 scale may not appeal to everyone
Limited to on-road and smooth surfaces
May require extra suspension tuning to optimize for specific track conditions
The Losi RC Car 1/10 1969 Chevy Camaro V100 AWD Brushed RTR is an impressive and faithful recreation of the iconic American muscle car, perfect for both auto enthusiasts and beginners alike. The officially licensed 1969 Camaro body features a molded grill, bucket lights, fog lights, rear lights, and side-view mirrors, capturing the essence of the classic car. Underneath the stunning exterior lies a V100-S chassis with shaft-driven AWD, providing balanced and neutral handling, as well as a locked rear differential.
The Dynamite 15-turn brushed motor and 45A 2-in-1 ESC/receiver offer excellent traction and drift control on various surfaces. Waterproof electronics, V1 performance street tires, and a full-length chassis brace ensure durability and reliability.
Pros:
Faithful recreation of the 1969 Chevy Camaro
Shaft-driven AWD for balanced handling and superior traction
Waterproof electronics for added durability
Officially licensed body and accessories for a realistic look
Suitable for both auto enthusiasts and beginners
Cons:
Battery and charger not included, requiring additional purchases
Brushed motor may not provide the same performance as brushless options
Locked rear differential may limit versatility in certain driving conditions
The TAMIYA 58639 RC Mercedes-AMG GT3 TT02 1/10 Touring Car Kit provides a highly detailed and authentic representation of the Mercedes-AMG GT3 race car designed for GT3 class racing. This 1/10 scale RC assembly kit is based on the TT-02 entry-level on-road chassis, making it perfect for beginners looking to learn and grow in the RC car hobby.
The kit includes a 540 Type Torque Tuned motor, Tamiya TBLE-02S ESC with brushed and brushless motor mode, 12-spoke wheels, stickers for recreating car markings, and masking stickers for painting. The TT-02 chassis offers excellent cornering and overall speed, with the potential for further enhancements by adding Hop-Up Options to increase the car's performance.
Pros:
Highly detailed and accurate representation of the Mercedes-AMG GT3 race car
Ideal for entry-level RC car enthusiasts
TT-02 chassis offers excellent cornering and overall speed
Expandable performance with numerous Hop-Up Options
Comprehensive kit including motor, ESC, wheels, and stickers
Cons:
Requires additional purchases for paint and clear coat to achieve an accurate color match
Assembly may be challenging for some users
Not suitable for more experienced RC car enthusiasts seeking advanced features or capabilities
Requires a separate purchase of a transmitter, receiver, battery, and charger as they are not included in the kit
The included brushed motor may not provide the same level of performance as brushless alternatives

What Are Drag RC Cars?
Drag RC cars are specialized radio-controlled vehicles designed specifically for drag racing, a thrilling motorsport that emphasizes speed, acceleration, and traction. These miniature vehicles are built to mirror the performance of full-sized drag racing cars, which compete on a straight, flat track over a short distance, typically a quarter or eighth of a mile. Drag RC cars come in various scales, ranging from 1/10 to 1/16, and are designed to provide hobbyists and enthusiasts with a thrilling racing experience that replicates the adrenaline rush of real-life drag racing.
Unlike traditional RC cars, which may be designed for off-road or circuit racing, drag RC cars prioritize straight-line acceleration and high top speeds. They are typically equipped with powerful motors, high-capacity batteries, and specialized tires for optimal traction on the racing surface. Additionally, drag RC cars often feature aerodynamic bodies and weight distribution designed to maximize straight-line stability and minimize wind resistance.
Check out the video below: The Arrma Felony 6S RTR RC Muscle Car Is a BEAST
While some drag RC cars come ready-to-run (RTR), allowing users to hit the track straight out of the box, others are available as kits that require assembly and customization. This offers enthusiasts the opportunity to fine-tune their vehicles for maximum performance and learn about the intricacies of RC car engineering. Furthermore, the competitive nature of drag racing encourages continuous improvement, as racers strive to achieve faster speeds and quicker reaction times.
Drag RC car racing has grown into a popular hobby, with dedicated tracks, clubs, and events held worldwide. The sport attracts a diverse range of participants, from casual hobbyists to professional RC racers. Whether you are a newcomer to the world of RC cars or an experienced enthusiast looking for a new challenge, drag RC cars provide an exciting and engaging way to immerse yourself in the thrilling world of high-speed racing.
How Do I Choose The Right Drag RC Car For Me?
Choosing the right drag RC car for yourself can be an exciting yet challenging task, as there are numerous factors to consider. To make the most informed decision, follow these guidelines to help you find the perfect drag RC car that suits your needs and preferences.
Determine your skill level: First and foremost, assess your experience and skill level with RC cars. If you're a beginner, consider starting with an entry-level, ready-to-run (RTR) model that requires minimal assembly and setup. As you gain experience and confidence, you can upgrade to more advanced models that offer increased customization and performance capabilities.
Budget: Set a budget for your purchase, keeping in mind that additional expenses such as batteries, chargers, and replacement parts may arise. While it's tempting to opt for the most expensive, high-performance model, remember that skill development and practice are equally important in improving your racing performance.
Scale: Drag RC cars come in various scales, with 1/10 and 1/16 being the most common. Consider the size and space you have available for racing and storage, as well as your personal preferences when choosing the appropriate scale.
Motor type: Drag RC cars typically feature either brushed or brushless motors. Brushless motors offer better performance, efficiency, and longevity, but they are generally more expensive. Beginners may find brushed motors more budget-friendly and suitable for learning the basics of RC car handling and maintenance.
Drivetrain: Consider whether you prefer a 2-wheel drive (2WD) or 4-wheel drive (4WD) drag RC car. While 2WD vehicles are generally lighter and more straightforward, 4WD cars provide better traction and stability, which can be advantageous on certain racing surfaces.
Customizability: If you enjoy tinkering and fine-tuning your vehicle for optimal performance, look for drag RC cars that offer a wide range of upgrade and customization options. This will allow you to experiment with different setups and make your car uniquely suited to your racing style.
Research and reviews: Finally, consult online reviews, forums, and local RC racing communities to gather insights and recommendations from experienced racers. This can help you narrow down your choices and make a more informed decision.
By considering these factors and taking the time to research and compare various drag RC car models, you can find the perfect vehicle to match your skill level, budget, and personal preferences, ultimately ensuring a fun and rewarding drag racing experience.
How Do I Maintain My Drag RC Car?
Maintaining your drag RC car is crucial for ensuring its optimal performance, longevity, and reliability. By following a regular maintenance routine, you can prevent potential issues and keep your vehicle running smoothly. Here are some essential tips for maintaining your drag RC car:
Clean after each use: After every racing session, clean your RC car thoroughly to remove dirt, dust, and debris that may have accumulated. Use a soft brush, compressed air, or a damp cloth to clean the chassis, wheels, and body. Avoid using water on electronic components, as it may cause damage.
Inspect regularly: Regularly check your drag RC car for signs of wear, damage, or loose parts. Pay close attention to the tires, suspension, drivetrain, and electronic components. Replace or repair any worn or damaged parts as needed to maintain peak performance.
Lubricate moving parts: Lubricate the moving parts of your RC car, such as bearings, gears, and suspension components, using appropriate RC-specific lubricants. Regular lubrication reduces friction and wear, ensuring smoother operation and prolonging the life of your vehicle.
Check and maintain electronics: Inspect the electronic components, including the motor, speed controller, and battery, for signs of damage or wear. Clean the motor with a motor cleaner, and ensure all connections are secure. Regularly charge and discharge your batteries according to the manufacturer's guidelines to maintain optimal performance and extend their lifespan.
Proper storage: Store your drag RC car in a cool, dry place away from direct sunlight or extreme temperatures. Remove the batteries before storage, and ensure the car is clean and free of moisture to prevent corrosion or damage to the components.
Follow the manufacturer's recommendations: Consult your drag RC car's manual for specific maintenance guidelines, as different models may have unique requirements. Adhere to the recommended maintenance schedule and use only compatible replacement parts and accessories.
Keep a maintenance log: Document your maintenance activities, including parts replaced, repairs made, and any upgrades or modifications. A maintenance log can help you track your vehicle's performance, identify recurring issues, and plan for future maintenance needs.
By following these maintenance tips and establishing a routine, you can keep your drag RC car in top condition, ensuring optimal performance and a more enjoyable racing experience.
How To Operate a Drag RC Car?
Operating a drag RC car involves understanding the basic controls, optimizing your vehicle's setup, and learning how to launch and race effectively. Here's a step-by-step guide on how to operate a drag RC car:
Familiarize yourself with the controls: Get to know your RC transmitter's functions, including throttle, steering, and any additional features it may have. Practice using the controls to accelerate, brake, and steer your RC car smoothly and accurately.
Optimize your setup: Adjust your drag RC car's suspension, tires, and weight distribution to improve traction, stability, and handling. Experiment with different setups to find the best balance for your specific racing conditions.
Pre-race preparation: Ensure your RC car is clean, well-maintained, and properly charged before each race. Check the tires for wear and adjust the tire pressure as needed for optimal grip.
Staging: Line up your drag RC car at the starting line, ensuring the front tires are straight and the vehicle is positioned correctly for a straight launch.
Launching: Once the signal is given, smoothly and rapidly apply the throttle, avoiding wheel spin or excessive wheelie action. Practice your launches to find the optimal balance between acceleration and traction.
Racing: Focus on maintaining a straight trajectory down the track while keeping your vehicle under control. Use the throttle and steering to correct any deviations and maintain the fastest possible speed without losing grip or stability.
Braking and slowing down: After crossing the finish line, gradually apply the brakes to slow your RC car down in a controlled manner. Avoid sudden or aggressive braking, which may cause the vehicle to become unstable or lose traction.
Post-race inspection: After each race, inspect your drag RC car for any signs of wear, damage, or issues that may require attention. Address any problems promptly to ensure your vehicle remains in optimal condition.
By following these steps and practicing regularly, you'll develop the skills and experience necessary to operate your drag RC car effectively and enjoy the excitement of high-speed racing. As you gain confidence and proficiency, you can experiment with different tuning options, techniques, and strategies to further enhance your performance and racing success.
FAQs – Drag RC Cars
What type of motor should I choose for my drag RC car?
The choice between brushed and brushless motors depends on your experience level and budget. Brushed motors are more affordable and easier to maintain but offer less power and efficiency. Brushless motors are faster, more powerful, and more efficient but come with a higher price tag and require a compatible ESC.
What battery type is best for drag RC cars?
LiPo (Lithium Polymer) batteries are the most popular choice for drag RC cars due to their high power-to-weight ratio, fast discharge rates, and excellent runtime. However, they require special care and handling to ensure safety and longevity.
How do I improve traction in my drag RC car?
Traction can be improved by selecting the appropriate tires for your racing surface, adjusting tire pressure, and fine-tuning the suspension setup. Adding weight to the front of the vehicle can also help increase traction during launches.
How can I make my drag RC car faster?
To increase the speed of your drag RC car, consider upgrading the motor, ESC, and battery. Gearing changes and reducing the overall weight of the vehicle can also contribute to improved performance.
What is the difference between 2WD and AWD drag RC cars?
2WD (two-wheel drive) drag RC cars have power delivered to either the rear or front wheels, while AWD (all-wheel drive) cars distribute power to all four wheels. 2WD cars are lighter and often more affordable, but AWD cars provide better traction and handling, especially on loose or uneven surfaces.
How do I practice my launches and reaction time?
To improve your launches and reaction time, practice consistently on a suitable surface with a clear starting signal. Using a timing system or racing against others can help you gauge your progress and refine your technique.
What maintenance should I perform on my drag RC car?
Regular maintenance includes cleaning the car, inspecting for damage or wear, tightening screws and nuts, checking the electronics, lubricating gears and bearings, and ensuring proper tire condition. Proper storage and charging of batteries are also crucial for the longevity of your RC car.
Conclusion
In conclusion, RC drag cars provide an exciting and challenging form of motorsport that can be enjoyed by enthusiasts of all skill levels. Whether you are a beginner looking for a fun way to enter the world of RC racing or an experienced competitor seeking a new challenge, drag RC cars offer thrilling head-to-head competition and endless opportunities for customization and improvement. By understanding the basics, choosing the right car, and performing regular maintenance, you can enjoy countless hours of high-speed racing action. The RC drag racing community is ever-growing, and now is the perfect time to become a part of it and experience the exhilaration firsthand.