Whether you are looking to buy your very first Radio-Controlled (RC) car or are looking for your next one, the vast diversity of options can be overwhelming.
RC cars come in various different types, brands and price points, each with its own advantages and disadvantages. However, making your purchase decision doesn't have to be so tough, and here we will discuss all you need to know about choosing between all these different RC cars.
We will also offer our recommendations for the best RC cars we have tested and review, each for its respective types. By the end, you should have a better idea about which RC car is the right choice for you.
Let us begin!
Top 5 RC Cars To Get In 2023
While there are endless options available in the market and picking just 5 RC cars are very difficult, here are our recommendations for each type discussed above:

Key Features:
80+ mph top speeds
Extreme 6S LiPo power
Adjustable wheelbase, adjustable ride height
Durable anodized aluminum chassis
High-quality components
Ready to run right out of the box
Specs:
Weight: 11lb (5kg)
Width: 12.91″ (328 mm)
Length: 28.54″ (725 mm)
Motor Type: Brushless
Rear Track: 12.91 in (328mm)
Front Track: 12.13 in (308mm)
Battery: Sold Separately
Scale: 1/7
Pinion: 16T
Pros:
Street and all-road muscle car
Real world driving dynamics
Brushless motor and ESC for increased power and efficiency
Scale replica wheels and tires
Scale US-spec front and rear bumpers
Painted and decaled body for increased realism
Cons:
The car is expensive
Batteries and Charger Required
Our Verdict: It mixes the fun of a speed run with the realism of a classic car replica in 1/7 scale complete with realistic tires, bumpers, body details and even decals.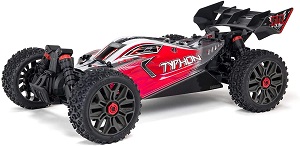 Key features:
4×4 all-wheel drive
3s LiPo battery compatibility
Waterproof electronics
Durable construction
Fast and powerful
Specifications:
Wheelbase: 12.91 in (328mm)
Weight: 5.68 lb (2.58kg)
Width: 12.05 in (306mm)
Height: 7.68 in (195mm)
Scale: 1/8
Pinion: 15T
Drivetrain: 4WD
Pros:
Extreme durability
Outstanding handling
All-terrain capability
Fast and powerful
Easy to control
Great value for the price
Cons:
Can be difficult to control
May not be suitable for younger children
May be too powerful for some RC enthusiasts
Our Verdict: The ARRMA Typhon 4X4 V3 3S BLX Brushless Buggy RC Truck is a great buggy for anyone looking to get into RC off-roading. It's a great value for the price, and it's packed with features that make it a blast to drive. If you're looking for an RC buggy that can handle anything you throw at it, the Typhon is the buggy for you.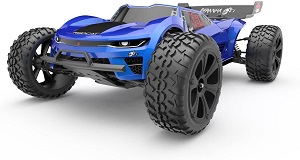 Key features:
2WD
2.4GHz radio system
Durable off-road tires
Proven performance in a wide range of conditions
Redcat Racing quality and support
Specs:
Scale: 1/10
Width: 11.02″ (280 mm)
Height: 4.92″ (125 mm)
Length: 15.74″ (400 mm)
Drivetrain: 2WD
Pros:
Can handle tough terrain
Comes with a 2.4GHz radio system
Has a waterproof receiver box
Can reach speeds of up to 25-30mph
Comes with a lipo battery
Cons:
The assembly instructions can be difficult to follow
The battery life could be better
The instructions that come with the kit are not very clear
Our Verdict: The Redcat Racing Piranha-TR-10 Piranha Tr10 Truggy is an excellent racing truck that is sure to provide you with hours of enjoyment. It is fast, durable, and easy to control, making it the perfect choice for both experienced and novice drivers alike. With its great performance and affordable price, the Redcat Racing Piranha-TR-10 Piranha Tr10 Truggy is the perfect choice for anyone looking for a great racing truck.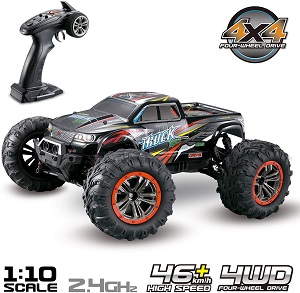 Key Features:
46 km/h top speed

2.4Ghz Accurate System & 2 Different Speed Mode

IPX4 Waterproof Level

Motor: strong magnetic carbon brushed motor

Battery powered (

1 x 7.4V/1600mAh battery pack (included))
Specs:
Fuel type: Battery
Drive System: 4WD
Model Scale: 1:10
Top Speed: 46 kmh
Dimensions: 17.8 x 12.8 x 6.6 inches
Pros:
Decent performance with 46 kmh top speed

Charging Time: 2.5 hrs

2.4Ghz highly responsive steering and throttle

strong magnetic carbon brushed motor
Cons:
Running time: Up to 15 minutes at a time
Our Verdict: A brilliant monster truck RC with a top speed of 65 mph on off-road surfaces, great TSM stability control, and other overall features. The best choice available if you are looking for a nitro-fueled RC car.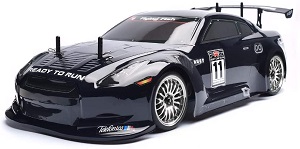 Key features:
4WD
1:10 scale
On-road high speed drift car
Great for drifting
Electric powered
Specs:
Package Dimensions: 21 x 9.3 x 8.2 inches (53.3 x 23.6 x 20.8 cm)
Weight: 6.44 pounds (2.9 kg)
Manufacturer recommended age: 14 years and up
Power Source: Corded Electric, Battery Powered
Material: Polypropylene
Pros:
Extra 4 drift tires (

In addition to 4 speed-tires, 4 drift-tires will be given away

)
37 mph TOP speed

Metal braces and brushless with a fan cooled esc and 2s lipo included

Great car overall for beginners

Independent suspension for a smoother ride
RTR (Ready-To-Run) for easy set-up
Fully equipped with 2.4GHz radio system, battery, and charger
Cons:
Sometimes throttle triggered along with steering wheel

Not a best battery life

Drifting can be difficult to control
The car is designed for experienced drivers
Our Verdict: Rraycom HSP Racing Rc Car 4wd 1:10 Electric Power On Road High Speed Drift Car is a great choice for anyone looking for a high-performance.
Factors To Consider When Choosing Different RC Cars
As we can see, there are many different types of RC vehicles to choose from with their own unique features and qualities.
Before you decide on a purchase, whether it's your first or next RC car, it's important to understand these different types and their unique features. RC cars can be expensive, so it's best to get one that actually fits your preferences and budget.
Below are the important factors to consider:
Budget
This one is pretty obvious, you can only get an RC car that fits your available budget.
First, RC cars with brushed motors are always more affordable compared to brushless motors, since brushless motors are faster and more efficient.
It's important to ensure you don't exceed your budget. Plan a set budget, and stick to it. The most expensive RC cars are not always the best, and would ultimately depend on your preference. In general, our advice is to research carefully and buy the most affordable RC car that suits your preference.
For example, if you are looking for performance, then you can plan to get the most affordable RC car that can reach a certain mph. This way, you won't break your budget when there's a more tempting product in front of you.
Body
There are two main types of bodies of RC cars: plastic and metal. In general, RC cars with metal bodies are more expensive, but they are also heavier and bulkier. So, the metal body might affect speed. Plastic-bodied RC cars are generally lighter and more flexible, and so they typically run faster.
So, it's typically a matter of durability and style (metal) vs speed and performance (plastic).
Both body types are customizable with paints and vinyl stickers, so it's not a deciding factor. Keep in mind, however, that buying paints and stickers will translate to extra costs. So you should try to get a body with the right paint, look, and color according to your preference in the first place.
Brand
The brand is often the biggest factor to consider for RC car enthusiasts, many of them are loyal only to a specific brand or two. Brands dictate price and some also offer unique features/characteristics not offered by others.
In the world of RC cars, there are four prominent brands:
Battery VS Fuel (Electric VS Nitro)
Most RC cars are battery-powered, but there are nitro RC cars that make use of fuel (and also need oils) to operate. Also, keep in mind that there are gas-powered RC cars that use gasoline instead of nitro as their fuel. Gasoline RC cars are larger and typically not as popular as electric and nitro cars.
In general, nitro RC cars are more suited for experienced users and DIY-lovers that like to modify their vehicles. Obviously with nitro cars you'd need to purchase the nitro fuel regularly, while with batteries you only need to replace the battery after several months or even years.
On the other hand, it's easier to refuel a nitro RC car outdoor where we might not have any outlets to recharge our electric RC car. In such cases, you might need to upgrade the electric car's battery and get a stronger charger.
LiPo VS Ni-Mh Batteries
If you plan to get an electric RC car, typically you'll be faced with two different options for the battery pack: LiPo or Ni-Mh.
LiPo is the newer and better battery but is generally more expensive (although not by much). Not only LiPo has a better capacity—so longer run times and power—, LiPo batteries also don't lose their charge over time. The downside, however, is that LiPo batteries can run hot and explode if improperly charged.
Ni-Mh batteries are more affordable and cheaper, but they don't last as long as LiPo ones (both in terms of capacity and life expectancy.
The Remote Control
Different RC car brands and models offer different types of remote control with different button placements, different functions, and some are easier to use than the others. But in general, there are two main types of remote control:
Pistol-Grip Transmitter: the one that we hold like a gun, the trigger operates the throttle, and the side-mounted wheel is used to steer the RC car.
Stick Transmitter: this type of controller looks like a game joystick that is operated by thumbs. Typically more expensive, but highly configurable.
For beginners, the stick type is generally easier to use, but pistol grip control is now more popular due to its compact and self-centering, ergonomic steering input that is more precise.
Extra Features
Some RC cars can produce sounds and even smoke to make the vehicles more realistic during operation. It's worth noting that some are much louder than others, so they are probably not suitable if you are going to play cars in a residential area.
Different Types of RC Cars
There are many different types of RC cars today but in general, we can divide them into five major types:
The average RC cars, also called "Touring" RC cars. Typically used on-road on the asphalt, concrete, or even carpet. Most street/touring RC cars are the scale of 1:10 with a 4WD system. The chassis is designed to run on flat surfaces for acceleration. Not suited to off-road terrains like grass, gravels, and sand.
Similar to the street/touring RC cars in many ways but with slicker tires and a 4WD system that is designed for easier drifting without damaging the car. With drift RC cars you can still get almost the same top-speed as street RC cars, but with more flexible turning.
Keep in mind, however, that drifting is difficult and you might destroy the car if you are not careful. Not recommended for beginners.
A hybrid between on-road and off-road RC vehicles, quite fast on-road, but usually the slowest off-road with its low wheelbase design. Also features long shock absorbers and relatively narrow tires to accommodate off-road terrains, but will compromise top speed.
A good all-around choice if you don't have any preference and simply wants to play anywhere you can.
Truggy (Truck-Buggy) RC Cars
It doesn't feature as long shock absorbers as the buggy, and all of the four wheels are protected by the shell of the truck (and the bumpers). We can think of a Truggy RC car as a buggy that is designed more for the off-road, with the frame of a buggy and monster truck tires on it.
Faster than a buggy on off-road terrains, but slower on-road.
Arguably the most iconic and popular RC designs due to its cool appearance and high-powered performance. They need high-capacity batteries (LiPo) batteries due to its bigger four wheels, heavier chassis, and more powerful motors.
Excellent, and the fastest off-road, but it is the slowest on-road. Also, not very good in making high-speed turns (can easily flip). A great choice if you are looking for an off-road car, but you shouldn't get this if you want to play the RC car in the house.
Ready To RC-Race?
This concludes our RC cars buying guide and our recommendation for the best RC cars available today. Our advice is to first figure out your preferences: whether you'll mainly play the RC car indoor or outdoor, whether you prefer fuel or electric-powered RC cars, and so on. Stick on a budget, and stick to it.
Remember that most RC cars are customizable both in looks and performance, so you can upgrade the RC car later, or even get a new RC car altogether.
The five RC cars we have discussed above are certainly the best options available for their respective types and are good choices to start your RC car hobby or as your next RC car.