As a beginner, you may be a little overwhelmed by the number of RC monster trucks available. While a good brand or model can help you narrow down your choices, the only way to identify the best RC monster truck for you is by researching the models available.
But, with so many different types of RC monster trucks to choose from, how do you decide which one is right for you? In this blog post, we'll walk you through the process of choosing a good RC monster truck for a beginner. Keep reading to learn more!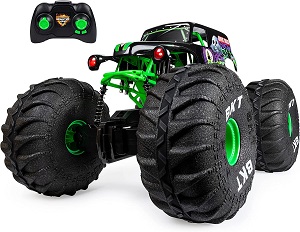 The Mega Grave Digger RC from Monster Jam is an RC truck that lives up to its name, and it's fun for kids and grown-ups alike, whether you're playing with it in the backyard or taking it for a trial run at the construction site. The truck is big and tough enough to handle most outdoor terrains, and it can run for several hours on one charge. This RC truck can cross over obstacles, and its rubber treads help it speed over curbs and wide cracks. RC Mega Grave Digger offers the best of both worlds: 2.4 GHz radio control (for speed) and a big, heavy truck with real rubber tires (for grip).
Pros
– Big, bold and true to the real-life Grave Digger
– Features working lights, metal treads, and oversized tires
– 2.4 GHz frequency dual joystick controller
– 250-foot range
– Off-road driving
Cons
– Still rather small, even for 1: 6 scale
– Not as maneuverable as the smaller, 1: 12 scale Grave Digger RC
– Requires 2 AAA batteries for the remote control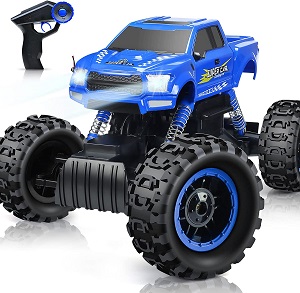 The Double E RC Cars 1:12 Off Road Monster Truck is a wonderful gift for kids. This truck is very sturdy with a wide range of features. The truck is very easy to assemble and operate. This truck whether on road or off road has no problem climbing those steep hills. The truck is very fast and agile when on road and has great brakes. The truck has lights which helps a lot when driving in the dark. It easily climbs up steep roads and can take very rough terrains.
Pros
– Fun and easy to operate
– Comes in a nice box, great as a gift
– Remote control is decently sized, so your kid should be able to move it around
– Overall build quality is good
Cons
– The tires are loud when turning
– The tires are sometimes slippery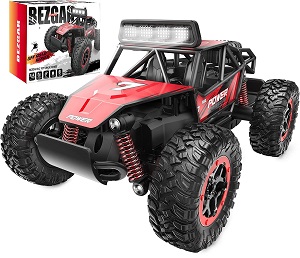 An awesome value for the price, the BEZGAR is a surprisingly capable RC car, with a 1/20-scale body and motor that allows it to hit speeds of 20 kilometers per hour. It's capable of running straight and true, carving corners and jumping over small obstacles with ease. If you're looking for an RC car that prioritizes speed, endurance, and power, the BEZGAR is a great choice. For adults, this car can also be a lot of fun. This remote-controlled car is a great off-road monster truck designed for outdoor use.
Pros
– Has a smooth ride, and performs well
– Has good battery life
– Comes with a nice case
Cons
– Tends to get very hot
– A little bit noisy
– Short running time – 15-20 mins with one battery; 30-40mins with two batteries
Overall, the Hot Wheels Monster Truck is a fun toy for kids and fans of monster trucks. The fun action, realistic design, and big treaded wheels make it very fun to maneuver. It's also cool to see a car that can move so easily from ground to dirt and even grass. The remote control is robust and powerful, and perfectly suited for the kinds of action scenes these vehicles are used to performing. The tread and the drivetrain on these 1:15 scale RCs are impressive, too, and the "roaring tiger on the prowl" roars through the neighborhood.
Pros
– Solid design, and good performance for a 1:15 scale RC
– Full-function remote-control action
– Great battery life
– USB charging
Cons
– The remote-control action isn't very smooth
– Controls are not backlit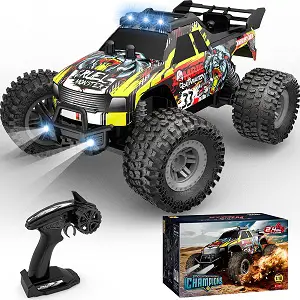 This realistic RC monster truck is equipped with flashing LED lights, which makes a 2.4 GHz remote-controlled monster truck with flashing LED lights an ideal gift for kids. The tires are made of TPR rubber, so they're soft, pliable, and grippy, which means they're easy to drive on all kinds of terrain. Anti-slip surface provide traction and allow you to drive on uneven surfaces without sliding. If you're looking for a cheap but durable RC truck toy gift for your kids, give this one a try.
Pros
– Very durable
– Long battery life
– Great value for the price
Cons
– Truck tends to oversteer a bit
– The truck can be sometimes difficult to control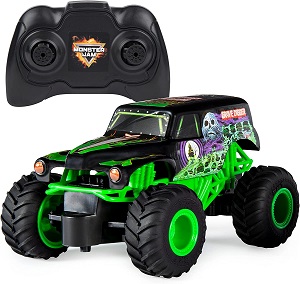 The Grave Digger RC monster truck is a good performer, and the impressive 250-foot range means that you can keep some competition going if you build a track. The truck itself is sturdy, durable, and fun. The 1:24 scale is a nice size for young kids, but it's a little too small for older kids and adults. It has nice realistic details, lights. The controls work well, the remote control is easy to hold and use, and the driving is easy to pick up. The monster-truck engine really makes quite a racket, and kids will love hearing it. It's perfect for kids who like to drive or race cars, or who otherwise like RC toys.
Pros
– Great-looking truck, and fairly decent quality
– Feels sturdy, and (mostly) indestructible
– Comes with a pretty detailed instruction book
– Realistic RC truck
Cons
– Require 5 AAA batteries (not included)
– The truck itself can be sometimes difficult to control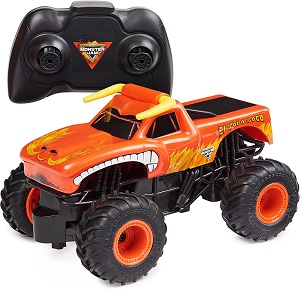 The El Toro Loco RC monster truck is an impressive recreation of the iconic Monster Jam off-road truck. Kids (and parents) love it. There's no limit to the fun you can have with the El Toro Loco RC, whether you're cruising around your home's driveway or tearing up the backyard. This 1:24 scale RC truck is a blast to drive! The 2.4 GHz remote control is responsive and easy to operate, with no signal lag, and the truck can be driven more than 250 feet away from the controller. The only drawback is that like most RC toys, the El Toro Loco RC requires some assembly and some familiarity with batteries and electronics, but it's easy enough for older kids to assemble.
Pros
– The controller is responsive, and the steering is tight
– The truck is lightweight, so kids (and adults) can play and race it easily
– The packaging is attractive, and the truck looks good
– RC monster truck is durable, so it should last a long time
Cons
– The truck is one-size-fits-all, so it may not fit perfectly for some kids
– The packaging is a little bulky
What Are RC Monster Trucks?
RC monster trucks are basically remote-controlled vehicles that you drive around your yard or street. They're a lot of fun to play with and can be a great way to exercise and have some fun at the same time.
There are a variety of different brands and types of RC monster trucks on the market, so it's important to do your research before making a purchase. Make sure you find one that is right for your skill level and interests.
If you're new to the world of RC monster trucks, there are a few things you'll want to keep in mind. Be sure to obey all traffic laws while driving your truck. If you're caught driving your truck on the wrong side of the road, you could be subject to fines and/or jail time.
Overall, RC monster trucks are a lot of fun and a great way to exercise and have some fun at the same time. If you're interested in purchasing one, be sure to do your research first and make sure it's the right fit for you.
How To Choose The Right RC Monster Truck For a Beginner?
When it comes to choosing an RC Monster Truck, there are a few things to keep in mind. First, decide what type of racing you're interested in. Are you looking to race single or multiple laps around a track, or do you want to race against other people? Second, consider the budget. Are you willing to spend a little bit more on a better-quality truck or do you want to save money and go for something less expensive? Third, think about your skill level. Are you a beginner who is just starting out, or are you an experienced driver who is looking for a challenge? Finally, think about what type of terrain you'll be racing on. Do you want to race on grass, pavement, or dirt? Each type of track has its own set of rules and regulations that you'll need to be aware of. Once you've answered these questions, it's time to start shopping!
There are a variety of great RC Monster Trucks available on the market, so it's hard to go wrong. The best way to find the right one for you is to try some out and see which ones fit your needs the best. There are plenty of great beginner-friendly RC trucks out there that will have you racing around the track in no time!
Other Benefits of RC Monster Trucks
There are many benefits to owning a RC Monster Truck. Here are a few of the reasons why owning one can be a fun and rewarding experience for your child.
First, a RC Monster Truck provides a fun and challenging activity for children. They can race around the house or outdoors, trying to outrun their opponents.
Second, a RC Monster Truck can be a great way to teach children about teamwork. They can work together to build a track and then race each other to see who can reach the finish first.
Third, a RC Monster Truck can help teach children about safety. They can learn how to obey traffic laws and how to stay safe while driving.
Fourth, a RC Monster Truck can provide a physical outlet for children's energy. They can ride it around and play with the controls, creating fun and exciting adventures for themselves and their friends.
How To Operate An RC Monster Truck?
If you're looking to get your heart racing and have a lot of fun, an RC monster truck is the perfect choice! These cars are easy to operate, and even beginners can get started quickly. Here are a few tips to help you get started.
First, make sure you have a good understanding of how RC cars work. Understanding how the car works will help you better control it and avoid crashing.
Second, always obey the rules of the road. RC cars are powerful, and if you're not careful, you could end up in a lot of trouble. Follow the rules of the road and you'll be safe and have a lot of fun.
Finally, be prepared for a lot of noise. RC monster trucks are loud, and if you're not used to the noise, it can be a bit overwhelming.
If you want to learn more about the best RC cars of all the types, check out our article:
Best RC Cars
FAQs Answered About RC Monster Trucks
How long does it take to charge a monster truck?
The time it takes to charge a RC monster truck depends on the capacity of the battery and how fast the charger is. The average charger will charge a battery in 2-6 hours.
How long is the running time of RC monster trucks?
It depends on the model. If you check the running times, you will see that they are usually advertised as 20 min. to 30 min.
Can RC monster trucks be used on roads?
Of course they can! You see, most RC monster trucks are designed to be used on off-road terrain. But they can also be adapted to run on roads.
What are the most famous brands of RC monster trucks?
There are many famous RC monster truck brands, but three of the most common are Traxxas, Losi, and Tekno. Other common brands of RC monster trucks include E-Tuning, Team Associated, Associated, and HPI