Are you a thrill-seeker who craves the rush of adrenaline-pumping speed and high-performance action? Look no further, because we've got just the thing for you! Welcome to our comprehensive guide on the 7 Fastest RC Trucks You Can Buy Today! With the rapid advancements in technology and engineering, the world of remote control vehicles has never been more exciting. These lightning-fast RC trucks are the epitome of power, agility, and cutting-edge design, all packed into a compact and versatile package.
In this guide, we will take a deep dive into the latest and greatest RC trucks available on the market, meticulously evaluating their top speeds, advanced features, and overall performance. Our carefully curated list aims to cater to a wide range of preferences and budgets, ensuring that there's something for everyone. Whether you're an experienced hobbyist seeking to level up your game or a newcomer looking to make a grand entrance into the world of high-speed RC trucks, we've got you covered. So, buckle up and get ready to embark on an exhilarating journey through the realm of high-octane, remote control truck racing!
How Did We Choose the Fastest RC Trucks?
Selecting the fastest RC trucks from the vast array of options available wasn't an easy task. We employed a rigorous evaluation process, focusing on several key factors to ensure that our recommendations truly represent the best of the best. First, we considered the top speed of each truck, ensuring that every model on our list offers impressive velocity.
We also took into account customer reviews, brand reputation, and durability to guarantee that these trucks deliver not only on speed but also on quality and reliability. By combining all these aspects, we're confident that our list showcases the top contenders in the fast-paced world of RC trucks.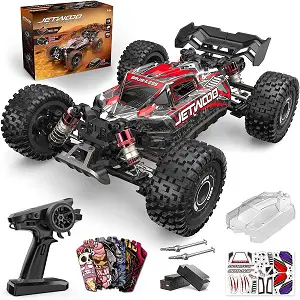 The Jetwood 1:16 4X4 Brushless Fast RC Monster Truck/Buggy is an outstanding combination of power, speed, and durability. Equipped with a 4200kv 2845 brushless motor, it can reach impressive speeds of up to 42mph (68kph) with a 3S 11.1v LiPo battery, and still hit a top speed of 28mph (45kph) using the included 2S batteries. The honeycomb chassis and metal components, such as ball bearings, zinc bumpers, alloy CVD shafts, and metal gears, contribute to its robust construction, designed to withstand impact, twist, and vibration.
Additionally, the independent 45A IPX5 waterproof ESC provides smooth power delivery to all four wheels, allowing the truck to be driven in various conditions, even on light rainy days. The smart ESC features overheating, over-current protection, and low battery voltage cutoff protections. The 2.4Ghz 3CH remote control system offers over 390ft of control range and low latency, with customizable throttle response, power output, and steering servo.
Pros:
High top speed (up to 42mph)
Durable honeycomb chassis and metal components
Waterproof ESC with multiple protection features
Long-range and responsive remote control system
DIY customization options with the included PVC transparent car shell
Cons:
3S LiPo battery needed for maximum speed not included
May be too fast for inexperienced users, although it has a 70% throttle limited function for beginners and kids
See more: Don't hesitate to check out our Jetwood RC Car Review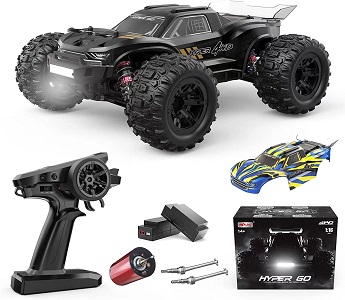 The HYPER GO H16BM 1:16 4X4 RTR Brushless Monster RC Truck offers an exceptional balance of speed, durability, and performance. Powered by a 2845 4200KV, 4-pole high-torque brushless motor with metal heatsink and cooling fans, this fast truck can achieve speeds up to 42mph with a 3S LiPo battery. The durable transmission system features metal gears, metal differential, a 5.5mm diameter axle, and M4 nuts for efficient power distribution and reduced power loss.
The honeycomb chassis is made of a specially developed material that can withstand the impact and abuse of off-road driving, further enhanced by F/R zinc metal reinforced sheets. The adjustable pull rod, 2.1kgf.cm torque force 3-wire servo, and flame-retardant battery casing ensure a safe and versatile driving experience. Oil-filled shock absorbers and pre-mounted sponge-inserted tires provide a smooth ride even at high speeds.
Pros:
High top speed (up to 42mph with 3S LiPo battery)
Durable honeycomb chassis and metal transmission components
Oil-filled shock absorbers for improved driving quality
Independent smart 2S/3S 45A ESC for upgrade potential
2.4GHz 3-Channel Radio with beginner-friendly 70% throttle limited switch
Cons:
3S LiPo battery required for maximum speed not included
May be too powerful for inexperienced drivers, despite the throttle limited switch for beginners and kids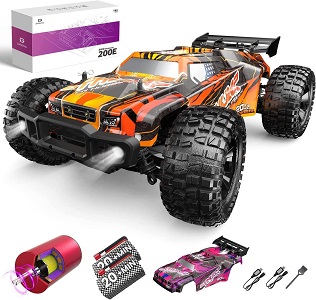 The DEERC 200E Large Brushless High-Speed RC Monster Truck is a beast on the track, boasting a top speed of 60+ KM/H thanks to its 45A brushless sensorless ESC and 2845 brushless motor. The dual heat sinks maximize performance, and the truck's impressive acceleration is perfect for thrill-seekers. This 1:10 scale 4WD RC car comes ready-to-race out of the box, with two PVC car shells in different colors, a brush, and a drawstring pocket for convenient storage.
The all-terrain truck features strong grip rubber tires and a nylon chassis designed to absorb impact energy. Independent suspension on both the front and rear, along with damped metal shocks, provide exceptional handling on various terrains. The 2.4Ghz Pistol Grip transmitter offers proportional control over throttle, speed, and steering for a smooth racing experience.
Pros:
Impressive top speed of 60+ KM/H
All-terrain capabilities with strong grip rubber tires
Durable nylon chassis and independent suspension
2.4Ghz Pistol Grip transmitter for smooth and accurate control
Comes with two 11.1V, 1500mAh Li-ion batteries for extended driving time
Cons:
High top speed may be challenging for beginners
Only two car shell colors available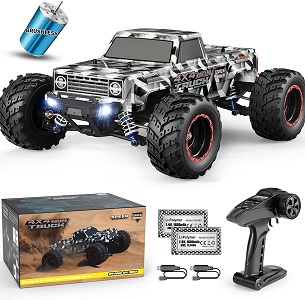 The HAIBOXING 1/12 Scale Brushless RC Off-Road Monster Truck is a high-performance, off-road racing machine that can achieve speeds up to 55KM/H. Powered by a 2847 brushless 3800KV motor, it boasts smooth acceleration, excellent traction, and impressive handling. The truck features steel gear pinions, aluminum oil shocks, and metal drive shafts, ensuring durability and reliability on rugged terrain.
Designed as a high-end hobbyist vehicle, this RC truck has a centrally positioned motor, providing weight balance and stable maneuverability. The 2.4GHz radio control system has a range of over 330 feet and avoids signal interference. The 35A brushless electronic speed control offers splash waterproof protection, overheating, and over-current protection, as well as automatic low battery voltage cutoff.
Pros:
Top speed of 55KM/H
Durable construction with metal components
High-grip, off-road V-tread tires with sponge inserts
2.4GHz radio control system with a range of over 330 feet
Includes two 7.4v 1600mAh Li-Po batteries for up to 30 minutes of driving time
Cons:
Not suitable for users under 14 years old without adult supervision
3S or over 3S battery application not allowed, limiting potential power upgrades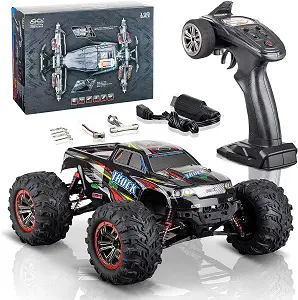 The TORXXER 1:10 Scale RC Truck is a high-speed, hobby-grade RC car designed to deliver power and performance on any terrain. Equipped with a brushed motor and a 1600mAh LiPo battery, this truck can reach speeds of up to 30MPH and run for up to 15 minutes. Its 4×4 capabilities and PVC rubber tires provide excellent grip on the street or off-road, while the precision steering ensures the truck doesn't get stuck.
Durability is a priority in this truck's design, featuring a tough chassis, heavy-duty wheels, and tires that protect it from hard hits. Fully sealed metal ball bearings ensure smooth operation for years. The advanced bump-crushing suspension offers fully independent suspension on all four wheels, making this RTR RC truck ready for any challenge.
Pros:
High-speed performance reaching up to 30MPH
Excellent grip with 4×4 capabilities and PVC rubber tires
Durable construction with a tough chassis and heavy-duty wheels
Advanced bump-crushing suspension for superior off-road performance
Safe for anyone to use, with a half-speed mode and 2.4Ghz remote control
Cons:
15-minute runtime may be limiting for some users
Brushed motor, while powerful, might not be as efficient as a brushless motor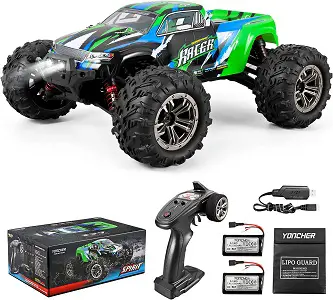 The YONCHER YC200 Remote Control Car is a 1:16 RC Monster Truck designed for both children aged 8-12 and adults. With all-terrain tires and an upgraded powerful motor, this RC truck can reach speeds of up to 45+km/h, ensuring a competitive edge in drag races. Its 45-degree climbing ability ensures smooth navigation on multiple terrains, with varying speeds on different surfaces.
The all-terrain monster truck is equipped with sealed ball bearings, shock absorbers, transmission shafts, steering cups, and gears. The 4WD transmission system is robust and surging, allowing the truck to traverse on-road, off-road, and rugged roads. A strong composite chassis, trapezoidal nylon chassis, and spring damping axle provide excellent anti-collision capabilities. IPX5 waterproofing and a fully enclosed two independent differential gearboxes ensure optimal dustproof and waterproof performance.
Pros:
High-speed performance, reaching up to 45+km/h
All-terrain capabilities with sealed ball bearings and shock absorbers
Strong composite chassis with excellent anti-collision properties
IPX5 waterproofing for protection against water damage
2.4GHz control for a control range of up to 100m and good anti-jamming capability
Cons:
May not be suitable for very young children without supervision
Runtime not specified, which may be a concern for some users
Waterproofing level may not be suitable for full submersion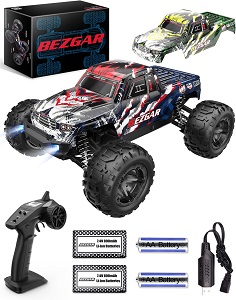 The BEZGAR HM161 is a hobby-grade 1:16 scale remote control truck designed for off-road adventures. Equipped with a 4WD-shock absorber suspension system, this RC truck is capable of running smoothly on a variety of terrains while minimizing damage to the body. Its high-quality RC390 motor generates impressive power, boosting the acceleration performance and allowing the truck to reach speeds of over 40 km/h, making it highly competitive in racing.
The entire chassis of the RC truck is made of nylon, offering durability, chemical resistance, elasticity, and insulation. These properties provide better crash resistance and extend the truck's service life. The high chassis also enables it to overcome obstacles with ease. The 2.4GHz full-size synchronized remote control system allows for proportional throttle and steering control, enhancing the driving experience.
Pros:
Strong suspension system for smooth performance on various terrains
High-quality motor, enabling speeds of over 40 km/h
Durable nylon chassis for improved crash resistance and extended service life
Proportional throttle and steering control for a more immersive driving experience
Suitable for entry-level and intermediate users seeking to progress to advanced hobby-grade RC cars
Cons:
May not be suitable for very young children without supervision
Runtime not specified, which may be a concern for some users
How to Choose the Right Fast RC Truck?
When searching for the perfect fast RC truck, it's essential to consider several factors to ensure you're getting the best model for your needs and preferences.
First, think about the desired scale and size of your RC truck. Different scales, such as 1:10, 1:12, and 1:16, are available, and each has its own advantages and disadvantages. Larger trucks offer more stability and better off-road performance, while smaller models tend to be more affordable and easier to transport.
Next, examine the truck's power system, as this significantly impacts its speed and overall performance. Brushless motors are generally more efficient and powerful than brushed motors, resulting in higher speeds and longer run times. Keep in mind that faster trucks may require more skill to control, so choose a model that matches your experience level.
Another critical factor to consider is the truck's drivetrain. A 4WD (four-wheel drive) system provides better traction on various terrains, making it ideal for off-road racing and challenging surfaces. In contrast, a 2WD (two-wheel drive) system is typically more affordable and easier to maintain but may struggle on uneven terrain.
Don't forget to pay attention to the suspension system, as this contributes to the truck's stability and handling. Look for models with adjustable shock absorbers and independent suspension systems for better off-road performance and durability.
Lastly, consider the RC truck's additional features, such as waterproof capabilities, proportional steering and throttle control, and the inclusion of extra batteries for extended run time. These features can enhance your overall driving experience and provide added convenience.
By carefully considering these factors and understanding your specific requirements, you'll be able to choose the right fast RC truck that meets your expectations and provides hours of fun and excitement.
Other Benefits of Fast RC Trucks
Apart from the adrenaline-pumping speed and thrilling racing experience, fast RC trucks offer several other benefits that make them a popular choice among hobbyists and enthusiasts. For one, these trucks help develop and improve hand-eye coordination and fine motor skills. As you maneuver the truck at high speeds, you'll learn to make precise adjustments, enhancing your reflexes and control over the vehicle.
Fast RC trucks also provide an excellent platform for social interaction and bonding with like-minded individuals. Participating in racing events or casual gatherings allows you to meet new people, share tips and tricks, and foster a sense of community among fellow enthusiasts. Moreover, these trucks can serve as a gateway to more advanced hobbies, such as customizing and upgrading components, ultimately leading to a deeper appreciation for the engineering and mechanics behind these high-speed machines.
Furthermore, fast RC trucks offer a sense of accomplishment and satisfaction as you master controlling them at high speeds and navigate through challenging terrains. The process of learning, improving, and eventually excelling in driving these trucks can be a rewarding and fulfilling experience that instills a sense of achievement and boosts self-confidence. In summary, fast RC trucks not only deliver exhilarating speed but also provide opportunities for personal growth, social interaction, and lifelong enjoyment of this exciting hobby.
How To Operate a Fast RC Truck
Operating a fast RC Truck can be an exhilarating experience, but it's essential to know the basics to ensure safety and maximum enjoyment. First and foremost, familiarize yourself with the truck's components, transmitter, and user manual. Understanding the functions of each part will help you troubleshoot issues and make the most of your RC car's features.
Begin by finding a suitable location for driving your fast RC Truck. Look for a spacious, flat surface with minimal obstacles to avoid collisions and potential damage. Practice driving at slower speeds initially to get a feel for the truck's controls and handling. Gradually increase the speed as you become more comfortable and confident in your driving abilities.
To optimize the car's performance, learn to control the throttle and steering proportionally. This means applying smooth, gradual adjustments rather than sudden, jerky movements. Mastering these techniques will allow for better control and precision when driving at high speeds.
Always be mindful of the car's battery life, as pushing it beyond its limits can lead to damage or reduced performance. Keep an eye on the battery indicator and recharge as needed. Lastly, perform regular maintenance on your fast RC truck, such as cleaning, tightening screws, and checking for wear and tear. This will ensure your car remains in optimal condition and continues to provide hours of high-speed fun.
Watch this video below: "How Fast Is The Arrma Kraton 8S RC Monster Truck?"
FAQs – Fast RC Trucks
Fast RC trucks have become increasingly popular among hobbyists and enthusiasts, and many people have questions about these high-speed vehicles. Here are some common questions and answers to help you better understand fast RC trucks.
What is the average top speed of a fast RC truck?
Fast RC trucks can have top speeds ranging from 30mph to 60mph or even higher, depending on the model and the motor type.
How do I choose the right fast RC truck for me?
Consider factors such as your budget, the terrain you plan to drive on, the truck's durability, and whether you want a ready-to-run (RTR) model or a kit that requires assembly.
How do I maintain my fast RC truck?
Regular maintenance includes cleaning your truck after each use, checking for loose or damaged parts, lubricating gears and bearings, and ensuring the battery is charged and stored properly.
Can fast RC trucks be used by beginners?
Yes, many fast RC trucks have adjustable settings to accommodate drivers of all skill levels. Beginners can start with lower speed settings and gradually increase their skills before moving on to faster speeds.
Are replacement parts easily available for fast RC trucks?
Most reputable brands offer replacement parts and upgrades for their fast RC trucks. It's essential to choose a well-known brand to ensure the availability of parts and support when needed.
Conclusion
In conclusion, the world of fast RC trucks offers a thrilling and exciting experience for hobbyists and enthusiasts alike. These powerful and high-speed vehicles provide adrenaline-pumping action, allowing users to test their driving skills and push the limits of speed and performance. The seven fastest RC trucks mentioned in this post are just a few of the fantastic options available on the market today.
Each of these trucks offers unique features and capabilities, making them suitable for various terrains and driving conditions. Whether you're a beginner or an experienced RC enthusiast, there's a fast RC truck on this list that's perfect for you. It's essential to consider factors such as top speed, durability, terrain compatibility, and ease of use when choosing the right fast RC truck for your needs.
Additionally, investing in a fast RC truck from a reputable brand ensures that you'll have access to replacement parts, upgrades, and support when needed. Make sure to follow proper maintenance procedures and safety guidelines when operating these high-speed vehicles to prolong their lifespan and ensure a safe and enjoyable experience.
So, get ready to embark on an exhilarating adventure with one of these top-of-the-line fast RC trucks. Explore new terrains, challenge your friends to races, or simply enjoy the thrill of controlling a powerful machine at breakneck speeds. The possibilities are endless, and the excitement is just beginning. Happy racing!