* This post may contain affiliate links, and we will be compensated if you buy after clicking on our links. Learn more on our Affiliate Disclosure Page.
Tamiya RC cars have long set the standard in the world of remote-controlled vehicles, blending intricate design with unparalleled performance. Our article taps into the collective expertise and authoritative reviews to highlight the best Tamiya models on the market. We delve into the features, durability, and user experiences of each car, providing a reliable guide that reflects the trustworthiness of the Tamiya brand.
Aimed at both newcomers and experienced hobbyists, our insights help you navigate the vast options with confidence. Discover the Tamiya RC car that best suits your passion and promises to deliver an exceptional driving adventure.
TOP Tamiya RC Car Models
In the realm of Tamiya RC car excellence, models like the TAMIYA Nissan Skyline GT-R R34 V-Spec II and the robust Tamiya 24354 Ford Mustang GT4 stand as testaments to Tamiya's dedication to quality and detail.
Classics such as the Tamiya 58346 The Grasshopper RC Car, alongside the sleek TAMIYA Mazda RX-7 R1 and the precision-engineered TAMIYA 24345 Mercedes-AMG GT3, showcase the brand's range from nostalgic charm to modern racing sophistication.
---
TAMIYA Nissan Skyline GT-R R34 V-Spec II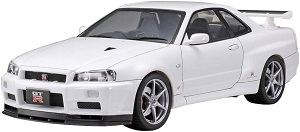 The Tamiya Nissan Skyline GT-R V-Spec model kit is a representation of precision and dedication to the craft of model car construction. This 1:24 scale model has garnered attention for its detailed design and the promise of a rewarding building experience.